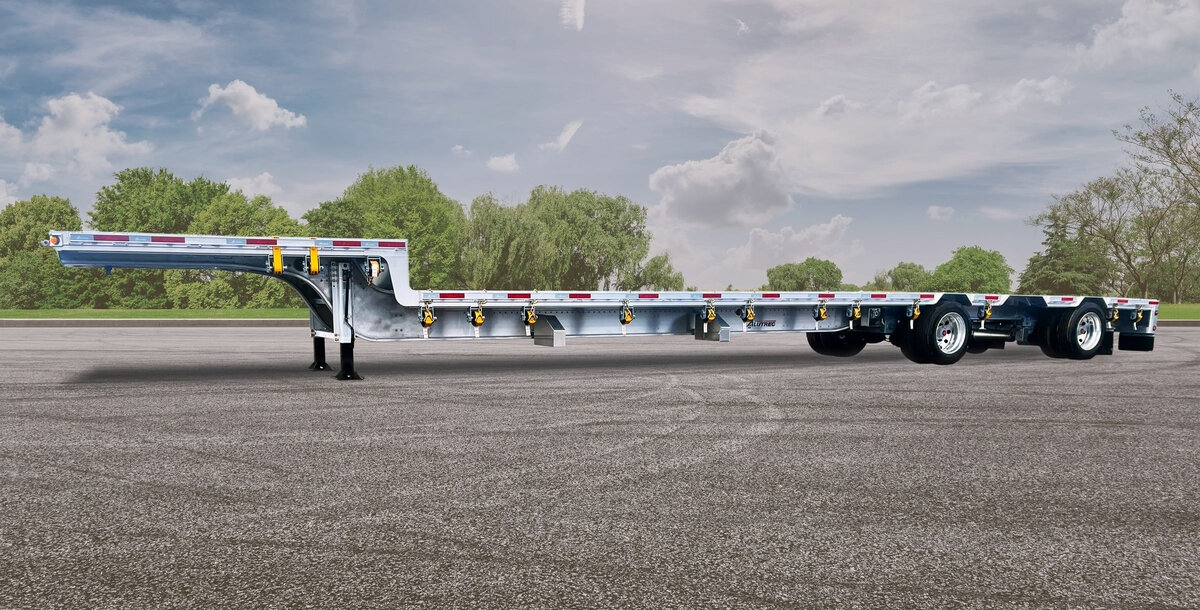 Alutrec
Premium Aluminum Drop Deck
Other benefits
Galvanized coupler plate
Galvanized landing gear structure
Galvanized suspension hangers
Aluminum plate with "ALUTREC" logo bolted between bumper uprights
Integrated cargo rails at side rails and flanges
4" cambered beams at 42" c/c
Extruded aluminum side rails with solid rub rail spacers and tubular side pockets rated to 5,500 lb.
Huck fasteners instead of bolts in key areas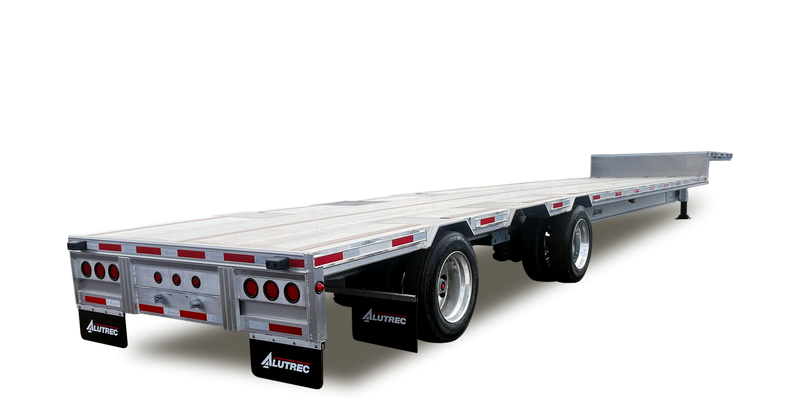 Specifications
Body Structure
Coupler Plate
3/8" galvanized coupler plate
Web
Aluminum extrusion (6061-T6)
Flanges
Aluminum extrusion (6061-T6)
Crossmembers
4" Extruded aluminum on 12" c/c
Floor
High Strength aluminum extrusion with 3 apitong nailers
Side Rail
Aluminum extrusion with integrated cargo rail
Pockets
Aluminum tube on 24" centers with certified 5,500 lbs working load limit
Rub Rails
Aluminum extrusion with standard double pipe spools
Rear End
Aluminum extrusion with recessed tail lights for extra protection
Bumper
Bolt-on aluminum, Transport Canada and DOT certified
Electrical
Main System
Grote Ultra Blue LED sealed lights & wiring harness system, meets Transport Canada and DOT requirements
Landing Gear
Landing Gear
Jost AX150 aluminum 10 year limited warranty
Suspension
Suspension
Hendrickson Intraax air ride
Accessories & Finishing
Decals
Conspicuity tape complies with DOT and CMVSS standards
Contact your
Sales representative
Our team is ready to assist you with any concern or question you may have.
Find your Rep
Configure &
request a quote
Manac offers a wide variety of customizations so that you can get a semi-trailer that fits your needs.
Request a quote
Contact the
Manac Team
Call one of our sales and service centres or send us an email.
Contact us