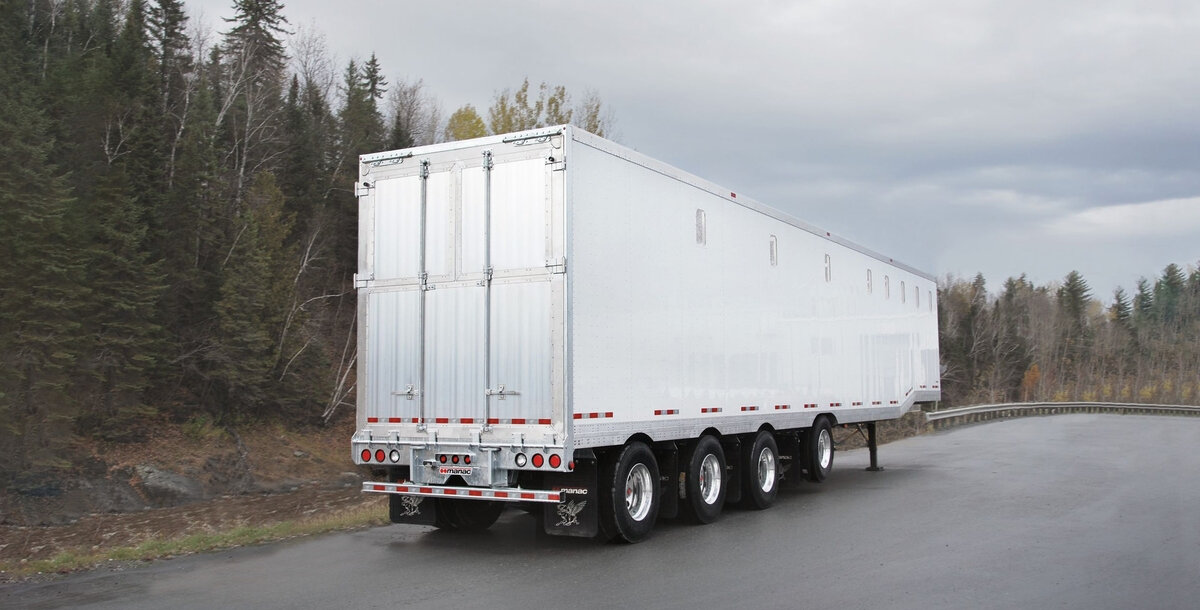 Robust Drop Frame Chip Van
Other benefits
Reinforced galvanized rear sill with integrated push blocks
5 1/2" high open top aluminum extrusion top rail
Tarp supports factory installed for future roll tarp installation
Raised aluminum plate for electrical connectors on front wall for easy access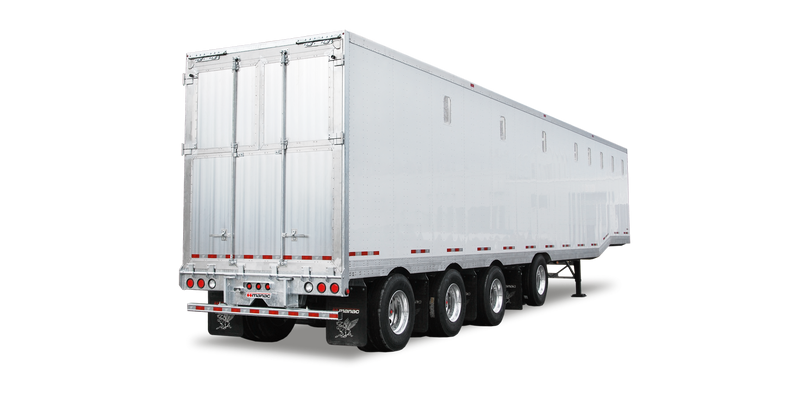 Specifications
Sub Structure
Coupler Plate
5/16" thick, reinforced, 100 000 psi steel
Frame
Fabricated "I" beam structure, 100 000 psi steel, full length with fenders over each axle flush with floor made of 11 gauge steel plates
Front Wall
Front Wall
6 Post Design, Pre-painted aluminum with double sheeting aluminum corners, unpolished on the outside and aluminum plate inside
Interior Liner
1/2" plywood with silicone sealed joints
Ladder
One ladder made of aluminum, road side front wall
Side wall
Side Panels
.049" Prepainted White Aluminum Panels
Posts
Aluminum 45mm deep on 16" c/c full length
Vents
4 openings 11" x 19" on each side wall with perforated aluminum plate
Rear End
Door Frame
Galvanized (G164)
Rear Header
Steel formed 4"x4" x 3/16"
Doors
Single dump style, aluminum with door latch on door sill manually operated with a road side handle
Bumper
Galvanized CMVSS & DOT approved with 4" x 4" roll formed tube cross bar with solid steel push bars
Roof
Roof Bows
3 galvanized steel, without offset and hinges
Tarp Support
1/4" aluminum plate each of the unit for roll type tarp
Electrical
Main System
Grote Ultra Blue LED sealed lights & wiring harness system meets Transport Canada and DOT requirements
Back-up Lights
2 sealed beam spot lights in rubber grommet in rear sill
Landing Gear
Landing Gear
Holland 2 Speed with self leveling square feet
Structure
Fixed to the full frame
Suspension
Suspension
Hendrickson HT or Intraax air ride
ABS System
Wabco ABS 2S-1M
Accessories & Finishing
Decals
Conspicuity tape complies with DOT and CMVSS standards
Contact your
Sales representative
Our team is ready to assist you with any concern or question you may have.
Find your Rep
Configure &
request a quote
Manac offers a wide variety of customizations so that you can get a semi-trailer that fits your needs.
Request a quote
Contact the
Manac Team
Call one of our sales and service centres or send us an email.
Contact us