Other benefits
9 gauge formed steel front sill with light protection
Heavy-duty landing gear structure
Pre-cambered main beams
High-tensile steel side rails with solid rub rails spacers
Floor and wiring (air and electrical) installed after paint process
11" high rear sill with 3 integrated pockets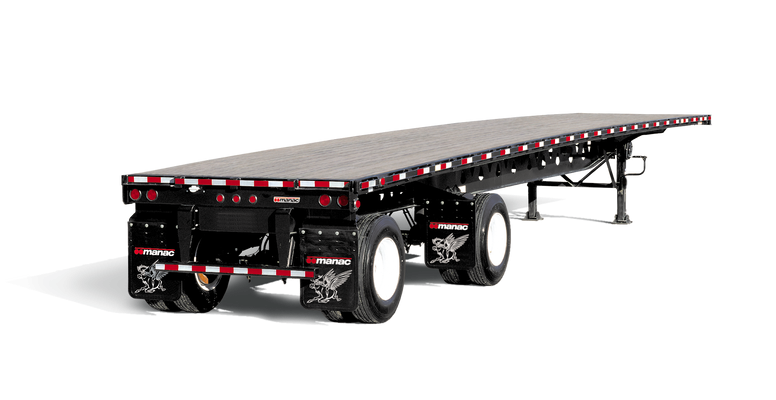 Specifications
Body Structure
Coupler Plate
5/16" steel plug welded structure
Web
1/4" plate in king pin area and the remaining in 3/16" 80 000 psi steel. 26" high at the peak with holes, parachute shaped, to lighten trailer
Flanges
3/8" x 5", 100 000 psi steel
Crossmembers
I beams, 4" @ 3.64 lbs/ft, 80 000 psi steel, 12" c/c
Floor
Apitong or equivalent, 1 1/8" thick shiplap finished, no preservative
Side Rail
Formed channel 6" @ 4.6 lbs/ft.
Pockets
3/16" steel plate, 1 5/8" x 3 5/8" interior, 4" high
Rub Rails
3/8" x 2 1/2" shaped steel
Rear End
11" high, 9 gauge formed steel, including 3 boxes at rear and 3/8" x 2 1/2" shaped steel.
Bumper
CMVSS 223-RIG approved (in accordance with Canada & USA regulations). Uprights integrated with frames, 4" x 4" cross bar roll formed tubing
Electrical
Main System
Grote Ultra Blue LED sealed lights & wiring harness system, meets Transport Canada and DOT requirements
Landing Gear
Landing Gear
Holland with reinforced structure
Suspension
Suspension
Hendrickson HT or Intraax air ride
Accessories & Finishing
Paint
Shot blasted, one coat of epoxy primer and two polyurethane acrylic top coats
Decals
Conspicuity tape complies with DOT and CMVSS standards
Contact your
Sales representative
Our team is ready to assist you with any concern or question you may have.
Find your Rep
Configure &
request a quote
Manac offers a wide variety of customizations so that you can get a semi-trailer that fits your needs.
Request a quote
Contact the
Manac Team
Call one of our sales and service centres or send us an email.
Contact us