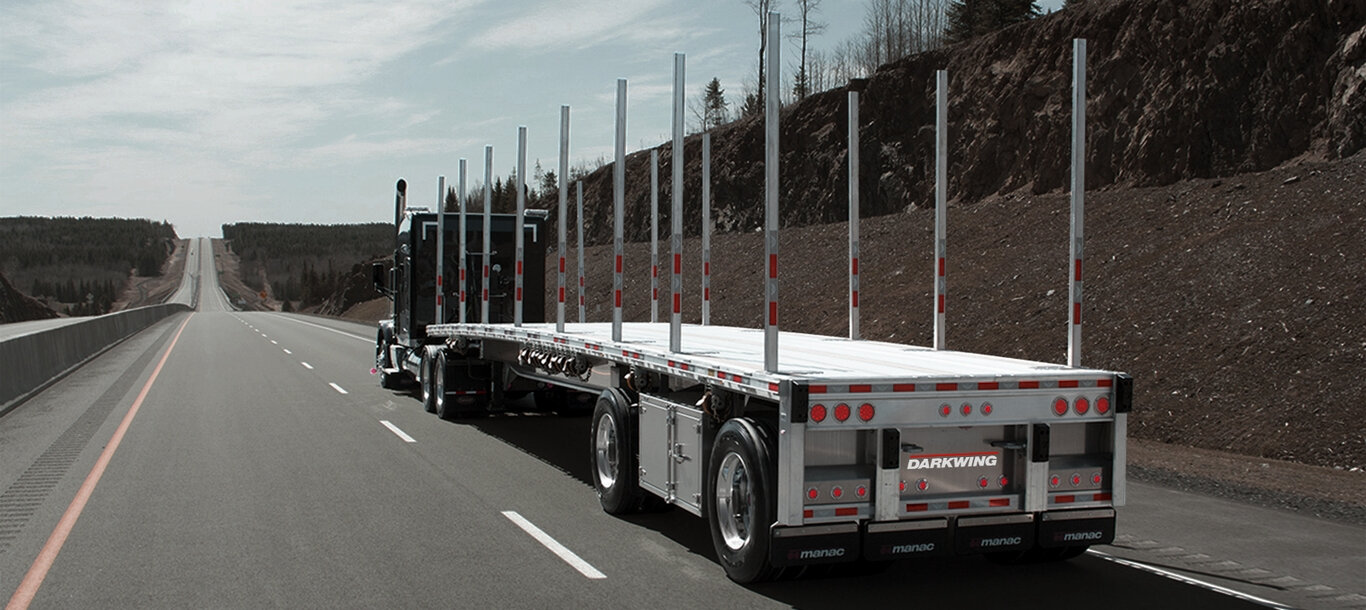 For a quality aluminum flatbed that drives value, look no further than the DARKWING
This lightweight but sturdy flatbed trailer is designed to handle larger, heavier carrying capacities. Made entirely of aluminum, this flatbed has a high resistance to rust and corrosion, making it easy to maintain. A great choice for maximizing your load, the DARKWING offers the best value at the right price.
The DARKWING flatbed trailer product line includes:
Straight flatbed trailers
Drop deck trailers
All Manac DARKWING flatbeds are available in various capacities and can be configured based on your load and application requirements including:
Standard Duty
Medium Duty
Heavy Duty
Other benefits
Galvanized coupler plate
Galvanized landing gear structure
Galvanized suspension hangers
Aluminum plate with "DARKWING" logo bolted between bumper uprights
Integrated cargo rails at side rails and flanges
Pre-cambered beams at 42" c/c
Extruded aluminum side rails with solid rub rail spacers and tubular side pockets rated to 5,500 lb.
Huck fasteners instead of bolts in key areas
Heavy duty 1 1/4" aluminum extruded floor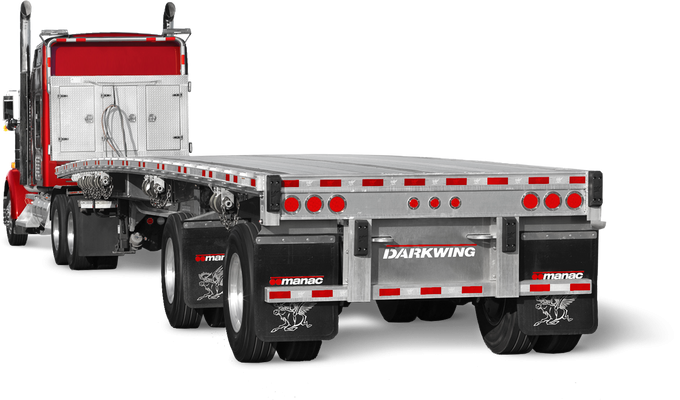 Specifications
Body Structure
Coupler Plate
1/4" galvanized 80,000 psi steel bolted structure
Web
1/4" polished aluminum full length
Flanges
Aluminum extrusion (6061-T6)
Crossmembers
4" extruded aluminum I-beams 16" c/c
Floor
High strength 1 1/4" high inverted "T" structural aluminum extrusion with 3 apitong nailers
Side Rail
Aluminum extrusion 5 13/16" high with integrated cargo rail
Pockets
Aluminum tube, 4" high on 24" centers with certified 5,500 lbs working load limit
Rub Rails
Aluminum extrusion 3/8" x 2 3/4" with standard double pipe spools
Rear End
Aluminum extrusion, 6 1/2" high, 16,000 lbs. lift truck HD capacity with 3 integrated boxes at rear.
Bumper
Bolt-on aluminum, Transport Canada and DOT certified
Electrical
Main System
Grote Ultra Blue LED sealed lights & wiring harness system, meets Transport Canada and DOT requirements
Landing Gear
Landing Gear
Holland with galvanized reinforced support structure
Suspension
Suspension
Hendrickson Intraax air ride
Accessories & Finishing
Decals
Conspicuity tape complies with DOT and CMVSS standards
Find the
nearest dealer
Choose a point of sale from one of our 150 sales offices.
Find a Dealer
Configure &
request a quote
Manac offers a wide variety of customizations so that you can get a semi-trailer that fits your needs.
Request a quote
Contact the
Manac Team
Call one of our sales and service centres or send us an email.
Contact us