Other benefits
Capacity of 70,000 lbs on 12'-0"
4 beam design
Integrated toolbox storage for air and electrical lines
Integrated foot step with grab handle to access top deck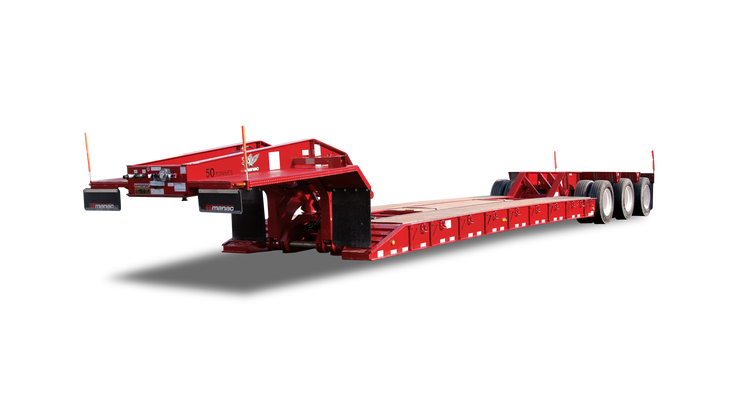 Specifications
Dimensions
Length
51'-8", main deck 25'-2" mid section
Width
102" side rail to side rail
Deck Height
Main deck, 6" under center beams, 22" above ground
Body Structure
Coupler Plate
5/16" plug welded structure, 100 000 psi steel
Gooseneck
14" at front enlarging to 20 1/2" at rear, 84" clear behind king pin. Detachable with 2 hydraulic vertical cylinders, 8" diameter with hydraulic operated gooseneck locks
Web
1/4" full length 100 000 psi steel
Flanges
Main beams 3/4" x 6", 16" high, 100 000 psi steel
Crossmembers
"C" shaped steel, 1/4" thick, 3" x 7" height, 80 000 psi steel at 18" c/c
Floor
Apitiong or equivalent, 1 5/16" thick, shiplap finished, no perservative, overlap 1/2" over the frame on the side, no floor between main frame.
Side Rail
Fabricated H beams, 3/8" x 6" x 14 3/4"high, 100 000 psi steel with web3/16" full length 80 000 psi steel
Outriggers
20 fabricated, 10 each side, 9" wide including (4) 6 1/2" wide x 1 5/16" thick x 12' long apitong boards with storage in center
Rear Beams
Qty 4, 102" wide, located between tires, 17" wide, 10 000 lbs capacity each, including lashing ring each end
Front End
Formed steel, between two main beams
Hydraulic Coupling
1 male pressure and 1 female return, quick coupling, 1" diameter located curb side
Bumper
Steel formed model, including supports and flag, wide load sign support and warning strobe lamp support near 4-way rear connector and warning stobe lamp support near 4 way rear connector
Electrical
Main System
Grote Ultra Blue LED sealed lights & wiring harness system meets Transport Canada and DOT requirements
Landing Gear
Stinger
One leg fabricated and activated with 4" diameter cylinder resting on truck frame
Suspension
Suspension
Fixed, Hendrickson (1) HT-250YS-9 and (2) HT-250US-9
ABS System
Wabco ABS 2S-1M
Air System
Gladhands
Fixed at front and in basket at front deck including hoses
Accessories & Finishing
Paint
Shot blasted, one coat of epoxy primer and two acrylic polyurethane top coats
Decals
Conspicuity tape complies with DOT and CMVSS standards
Lashing Rings
20 heavy-duty D-rings, 9 bent style each side of main deck and 2 on gooseneck
Flags
4 flags including 4 supports, 2 on gooseneck fenders and 2 on rear bumper
Sign
One "D" long wide road sign red and white, removeable, 12" x 96" in aluminum
Find the
nearest dealer
Choose a point of sale from one of our 150 sales offices.
Find a Dealer
Configure &
request a quote
Manac offers a wide variety of customizations so that you can get a semi-trailer that fits your needs.
Request a quote
Contact the
Manac Team
Call one of our sales and service centres or send us an email.
Contact us