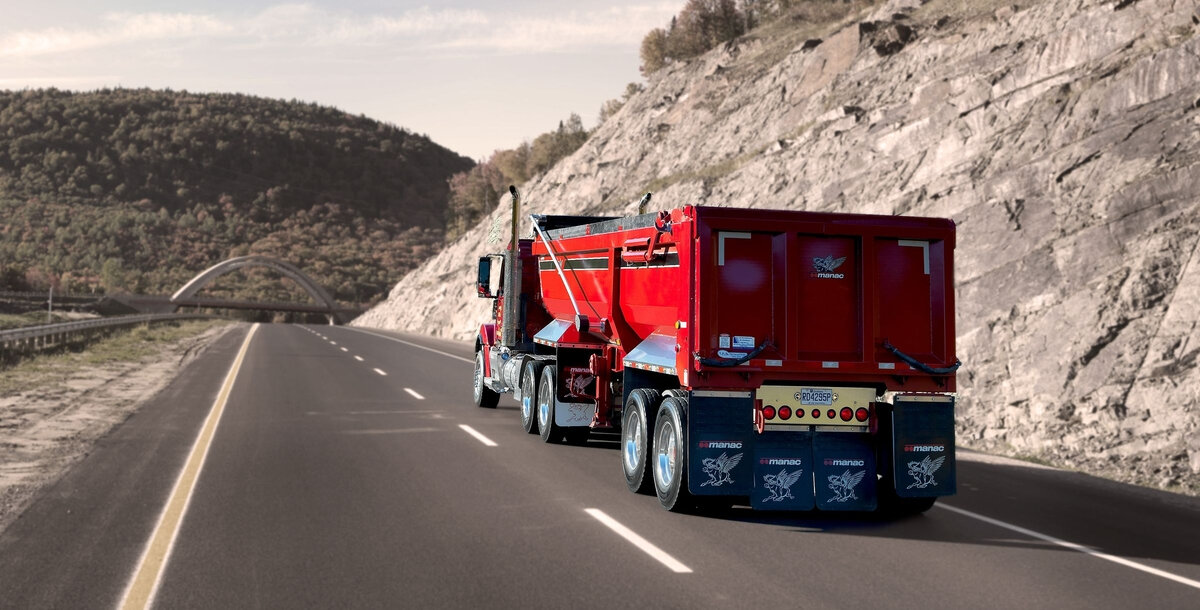 Durable Steel Bathtub End Dump
Specifications
Dimensions
Height
48" solid side wall height + 6" wood
Sub Structure
Coupler Plate
5/16" thick, swivel structure with retrurn spring included
Flanges
3/8" x 4", 100,000 psi steel
Web
3/16" plate, 80,000 psi steel, 11 1/4" high at the peak
Anit-Roll Bar
5 total 3 of 4" x 2" x 3/16" and 2 of 7" x 5" x 3/16" located between main beams
Bumper
Between bogie rear frame with pull plates welded in vertical position
Body Structure
Floor
1/4" Hardox 450 steel welded at crossmembers
Fenders
Fixed on the box, formed steel, slope welded at the box. Located above rear tires and at front to cover truck tires
Front Wall
Front Wall
4mm thick Hardox 450 steel
Cylinder
Hyva, Alpha Series (FEE 8-5-228), 8" diameter, 5 sections, 228" stroke. Optional 9" diameter with 269" stroke for 37' length trailer
Hydraulic Coupling
Male, 1" diameter, screw type
Side wall
Side Panels
4mm thick Hardox 450 steel for walls and radius
Top Rail
Steel tubing, 7" x 5" x 3/16"
Top Rail Protector
6" wood
Rear Posts
Rear posts 3/16" thick formed steel plate
Rear End
Doors
Dump, slanted rear made of 4mm Hardox 450 steel with 3mm thick steel Domex 100 formed frame
Door Locks
Air operated, two locking hooks per side
Electrical
Main System
Grote Ultra Blue LED sealed lights & wiring harness system meets Transport Canada and DOT requirements
Landing Gear
Landing Gear
Holland Mark V, (LGS-4F315) with mounting plate
Suspension
Bogie
Fixed, flanges 3/8" x 4" 100,000 psi steel with 3/16" web 80,000 psi 18" high
Suspension
Hendrickson Intraax air ride, tandem and tridem
ABS System
Wabco ABS 2S-1M
Air System
Air Controls
Double, air suspension and door lock cylinder operate together with electric control and individually with manual control
Accessories & Finishing
Paint
Shot blasted, one coat of epoxy primer and two acrylic polyurethane top coats
Decals
Conspicuity Tape Meets CMVSS & DOT Standards
Ladders
1 aluminum located on front outside wall on the road side and one made of steel on interior front wall 3" x 3" x 1/4" angle
Find the
nearest dealer
Choose a point of sale from one of our 150 sales offices.
Find a Dealer
Configure &
request a quote
Manac offers a wide variety of customizations so that you can get a semi-trailer that fits your needs.
Request a quote
Contact the
Manac Team
Call one of our sales and service centres or send us an email.
Contact us