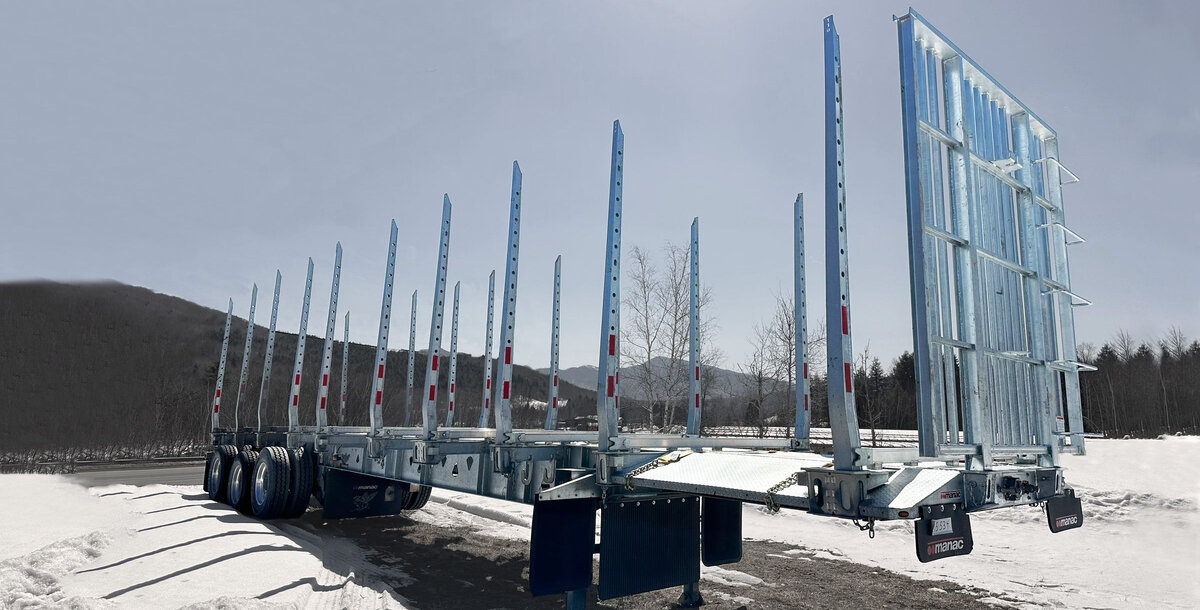 Robust Sloped Log Trailer
Other benefits
Heavy duty pull plate on bumper
Additional lights in rear end bumper
Bolted king pin
Reflective tape on both sides of pickets
Bunk angles installed on last bunk to hold tree length lumber
Gravel guard installed above suspension hangers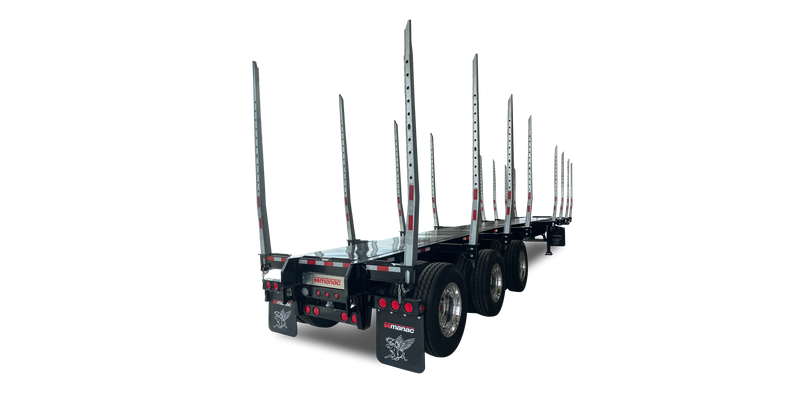 Specifications
Dimensions
King Pin
Bolted at 30"-42"
Wedge Height
Frame with a 10" slope from front to rear with camber
Body Structure
Coupler Plate
3/8" plug welded reinforced structure
Gooseneck
11" high, with integrated nose ramp and 48" straight behind king pin
Web
1/4" plate in king pin area and the remaining in 3/16", 80 000 psi steel with parachute formed holes to lighten the trailer
Flanges
3/8" x 6", 100 000 psi steel
Crossmembers
4" I beams 80 000 psi steel, between main beams
Floor
Checker plate 1/8" at front and above suspensions at rear, between main beams only (no wood flooring at all)
Front End
3/16" thick formed plate, 80 000 psi steel
Bumper
Forestry type, tubing with integated push & pull plates installed on bumper uprights
Fenders
Checker plate 1/8", above truck wheels, sloping
Bunks
5 fixed sets of bunks with fabricated boxes. Located at 60" and 72" c/c.
Stakes
Qty: 20, ultra light, galvanized, bottom 4" x 4", curved, 80,000 & 100,000 psi steel
Electrical
Main System
Grote Ultra Blue LED sealed lights & wiring harness system meets Transport Canada and DOT requirements
Suspension
Suspension
Hendrickson HT or Intraax air ride
Retaining Chains
On ground axles with air ride suspension
Accessories & Finishing
Paint
Shot blasted, one coat of epoxy primer and two polyurethane acrylic top coats with gravel guard applied to the suspension hangers
Decals
Conspicuity tape complies with DOT and CMVSS standards
Winches
10 total 2 fixed and recessed on road side between first set. 8, fixed and tilted 45 degrees, located road side between bunks all with handles
Lashing Rings
Qty: 10, lashing pockets on the opposite side of winches
Find the
nearest dealer
Choose a point of sale from one of our 150 sales offices.
Find a Dealer
Configure &
request a quote
Manac offers a wide variety of customizations so that you can get a semi-trailer that fits your needs.
Request a quote
Contact the
Manac Team
Call one of our sales and service centres or send us an email.
Contact us