Reliable Standard Dry Van
Other benefits
Top rail with interchageable corner caps
Aluminum front rail
Galvanized bolted landing gear structure
Bolt-on galvanized bumper
Outboard-mounted roof rivets
Hardwood floor with 8' WAXIN protection at rear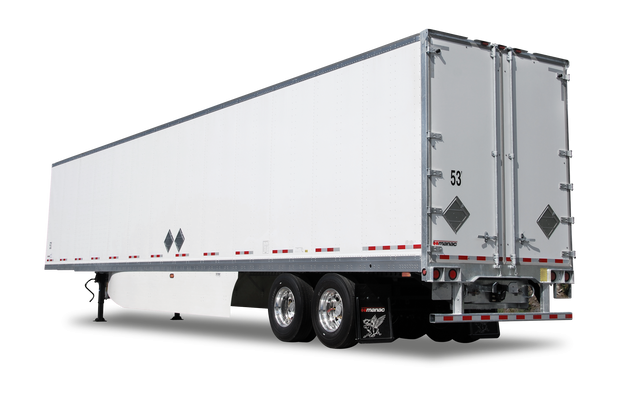 Specifications
Sub Structure
Coupler Plate
High strength 1/4", 5/16" or 3/8"
Floor
Prolam 1 3/8" laminated hardwood with black preservative undercoating and Waxin water resistance treatment on last 8' of interior floor, 20,000 lbs floor rating
Front Wall
Front Wall
6 Post Design, Pre-painted aluminum panel, aluminum cast radius with interchangeable corner caps
Side wall
Side Panels
.049" Prepainted White Aluminum Panels
Rear End
Door Frame
Galvanized (G164)
Doors
Composite swing, roll-up
Bumper
Galvanized (G164), bolted uprights CMVSS & DOT approved and IIHS Toughguard award design
Roof
Roof
Aluminum, Translucent
Electrical
Main System
Grote Ultra Blue LED sealed lights & wiring harness system meets Transport Canada and DOT requirements
Landing Gear
Landing Gear
Holland 2 Speed
Structure
Galvanized Formed Steel Over 6 Crossmembers
Suspension
Suspension
Hendrickson Intraax air ride
Accessories & Finishing
Decals
Conspicuity tape complies with DOT and CMVSS standards
Contact your
Sales representative
Our team is ready to assist you with any concern or question you may have.
Find your Rep
Configure &
request a quote
Manac offers a wide variety of customizations so that you can get a semi-trailer that fits your needs.
Request a quote
Contact the
Manac Team
Call one of our sales and service centres or send us an email.
Contact us